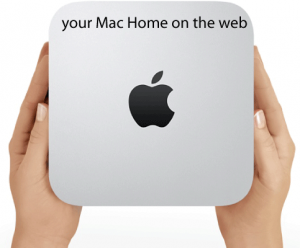 "VirtualMacOSX.com offers a hosted Macintosh OS X environment from our Data Centers in Western and Eastern Canada.  We run the latest licensed OS X Mavericks 10.9.5 on Apple Branded Hardware.  Our two locations allow for desktop sessions around the world. " – vmOSX website
I became acquainted with Virtual Mac OS X when I needed to work on some iPhone/iPad apps and be able to upload these to the Apple Store.
I do not own a Mac. so I was looking for an inexpensive solution to work on a Mac without actually own it. I searched the web for "virtual mac" and I got to VirtualMacOsX.com .
I was glad to find they are located in Canada and have a server in the Western Canada, which was even pretty close to my location. I ordered a managed plan that fitted my needs and soon after I received an email with all the service configuration, complete login details & instructions. That was quick! I paid less than $15/month and I could keep the service for as long as I needed.
The second time I needed a virtual Mac was when I needed to download my copy of Mountain Lion that I bought on Apple Store. You need a Mac machine to be able to download an item from Apple App Store. I plan to install this Mac OS on a PC using VirtualBox software from Oracle. Mac OS X 10.8 requires at least 2 GB of memory, so James from vmOSX graciously increased my server memory.
I highly recommend VirtualMacOSX.com, as an affordable & reliable virtual Mac service, very easy to use, with an excellent customer service support." – Lucian Mihailescu, LucianWebService.com
You may want to use a managed plan if you need to work on a Mac environment and develop your apps.
The plans range from $7.75 (USD) per week to $19.75 per month, with a lite plan of $14.75/month. Storage ranges from 1 GB to 5 GB.
All managed plans come with OS X Mavericks with the latest version of XCode and 4GB RAM 1066 DDR3.
If you need to work on a full Mac server, with the admin capabilities, you may want a Dedicated plan.
Dedicated plans range from $24.75 per month to $54.75 per month, with memory between 1GB to 3GB, a dedicated IP and a fast 40 GB Drive as storage.
All dedicated plans come with OS X Mavericks Server, with the ability to Build Server, Run services or Run a full suite of services.
How to login to your virtual Mac
From a Mac you can login to your virtual Mac via a Mac OS X Snow Leopard or Lion based computer then you can use Finder-Go-Connect to Server
From a non-Mac machine –  Windows, Android, Linux and iOS devices (iPad, iPod, iPhone) –  you can use a VNC client (like tightVNC, Mocha, or Screens) or Team Viewer .
You can also FTP into your virtual Mac using File Zilla, using the provided login details.
If you need an inexpensive solution to work on a Mac, get your plan today on VirtualMacOSX.com today!