Udemy.com provides quality online courses in different learning areas: programming, social media, business, arts, health, music, academics and more. The meaning of "Udemy" is the "Academy of You".
We live in Vancouver Area, BC, Canada and started to use Udemy courses in 2011. We found about Udemy from a Groupon coupon for the course "Learn to Develop an iPhone or iPad App in 4 Weeks". It was a great deal, only $74 instead of the full price of $250. Then we found about the attractive Udemy discounts for some of their courses, so we signed up for Udemy newsletter and Udemy Affiliate program. You can read more about their projects in the Udemy Blog. With Udemy online courses it doesn't matter if you take your continuing education in Vancouver, Richmond, Burnaby, Langley, Abbotsford, Coquitlam, Calgary or Toronto, as these online classes are available from everywhere in the world. You can take accredited college courses online to put towards a degree too. Good luck with your continuing education online courses!
Here at ContinuingEducation.ME we post some of Udemy's top courses. You can find relevant information about Udemy affordable courses and Udemy free courses. We will add more courses as we will find more useful resources for your continuing education. We will also post available Udemy coupon codes and Udemy reviews. Signup for LWS Newsletter to get our updates on Udemy online classes, WordPress plugins, Affiliate Programs and more.
Read & share my article from Udemy Blog: Why the Udemy Affiliate Program is so rewarding
Latest Udemy Course Deals
Find our Udemy Current Deals List - updated permanently
More Promotions & Discounts
Useful links
Signup on Udemy.com
When you get to the Udemy website using one of the links below, you can create a free account either using your Facebook account or by using your email address and a password. After that you can follow the provided link to go to checkout page.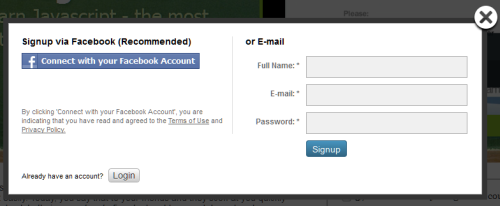 Free Courses and Discounts
Udemy offers some of the courses or part of the courses for free. From time to time you can get discounts as a first time buyer.
Also you can get discounted prices for some courses after you signup for free with Udemy. Signup for their newsletter to get all the new courses and discount information.
If you have a coupon code you can enter it on the check out page. (see "How to enter coupon codes")
Udemy Affiliate Program
After you buy your first Udemy course and signup on Udemy.com you can also signup for free for the Udemy Affiliate Program.
The payout is made to your PayPal account at the end of the next month after a sale is approved. For example, if you have a sale on January, you'll get the payment at the end of February.
You will be paid for customer signups that aren't refunded within 30 days. If there is a partial refund, you will get commission based on the resulting amount.
Login to your Udemy account and then click the "Affiliate Info" link associated with your profile, at the top right. You'll be able to provide your PayPal address and you will get your own affiliate links for Udemy courses.
You will be able to promote all the courses included in your Affiliate Dashboard. You will see a list of all affiliate courses, their associated text link and their payout comission.
This section also will let you see statistics for your promoted Udemy links, by clicking the "Details" link.
"Custom links" section will let you create a unique affiliate link for a specific course when you have a coupon code for that course.
Share your Udemy affiliate links with your friends and your larger audience.
Update on Udemy Affiliate Program – March 21, 2012
If you drive a new sign-up to Udemy, you will receive 50% of any purchase that person makes during the first 30 days they are on Udemy.
If you send an existing Udemy user back to Udemy, you will recieve 50% of any purchase that user makes during the next 24 hours!
Create and sell your own online course!
Udemy allows you to create and upload your own course! You can set a price and keep 70% of all revenue from sales. Also you can create free courses.
Then you can promote your course on social media websites, give coupon codes and more.
Below we added a selection of the best seller Udemy courses. Click on the icons beside each course title to access each offer.
See the top of the page for the latest Udemy Course Deals.
Learn to Develop an iPhone or iPad App in 4 Weeks

 

Ruby Programming for Beginners (ten easy steps)

 

PHP and MySQL for Beginners

Become a Web Developer from Scratch!

(The Complete Full Course)

 

Javascript for Beginners

 

Javascript for Programmers

 

Java for Beginners – The Ultimate Java Tutorial

 

HTML5 Beginners Crash Course

Adobe Photoshop CS5 for Beginners

 

Social Marketing for Startups

 

How to Create an Awesome Demo Video for your business

 

Raising Capital for Startups

 

Learn Python the Hard Way

 Microsoft Excel 2010 Course: Beginners/ Intermediate Training